Portfolio: Drawings
- Click on any image for a larger view -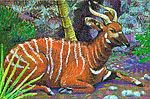 Top left: Study of a sleeping child, 1992.
Top center: Study of an interior, 1991.
Top right: Bongo at the Franklin Park Zoo, 1991.
Above row: Pencil drawings belonging to a series I produced for a conceptual drawing class in 1990. The assignment was to creatively demonstrate a process in four steps. My solution illustrated a child building a LEGO&reg spaceship, then taking off in the ship with his astronaut friend.

---
Drawings copyright 1997 Suzanne D. Rich