Suzanne D. Rich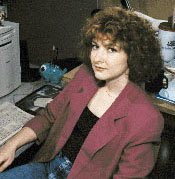 WHEN I'm not doing something LEGO® related, I may be found playing SimCity, creating house plans, reading magazines, motorcycle riding, drawing or blankly staring into the Internet.

I live with a cat named Boo-boo Kitty and a nice guy named Todd.

Are you hiring? Check out my online portfolio.

And for those of you wondering "What the Heck is that thing?" in the background of the photo above...