Help Wanted at Legopolis.com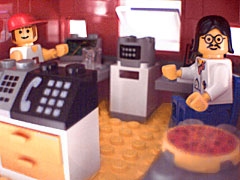 Do you live in the Greater Legopolis Area and need employment? Join an exciting growth company offering a very generous compensation plan and tremendous opportunity for advancement. We provide our employees with free pizza every day! To apply for one of the following jobs, send mail to: jobs@legopolis.com

Telephone Receptionist
    We have a position available immediately for a day shift telephone receptionist. The successful candidate must possess a pleasant demeanor, telephone skills and should enjoy working in an exciting, fast paced environment. Internet experience is preferred but not required.

Graphic Artist
    Legopolis.com's hot new web creative team is looking to get just a bit hotter! We have an entry-level graphic artist position and are looking for a self-starting, energetic, creative team player to fill it. The successful candidate will have strong design sense, as well as experience with Adobe Photoshop and Illustrator. Computer skills (Mac or PC) a must. Understanding of the nature of the Web, including bandwidth considerations, 72 dpi images, Netscape-specific color palettes necessary and general Internet experience a plus.